When it comes to cooling your caravan, you will find a number of brands in the market. Some are full air conditioners and some are just coolers. Of course, you would want to buy an caravan air conditioner that is effective and durable as well. We have written a blog that takes a look at the best caravan air conditioner brands in Australia. This blog will also take a look at what these brands have to offer and how you can choose the best caravan air conditioner for your needs.
Caravan Air Conditioners Brands
Here are the main brands of air conditioners ideal for caravans in Australia. Whilst most are purpose built for caravans, some are portable units that are suitable for both caravans and homes
Dometic
Truma
Houghton
Telair
Webasto
Gree
Coolzy
Dometic Caravan Air Conditioners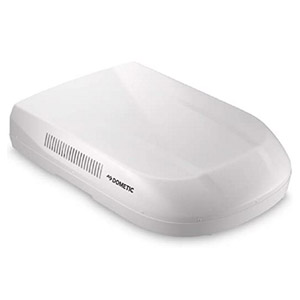 The largest selection of air conditioners are offered by Dometic, offering you plenty of flexibility—especially crucial if you don't have much room. Over the years, Dometic air conditioners have garnered various honours, most recently a Red Dot Design Award and the Miami Boat Show Innovation Award.
The Dometic Rooftop range includes the Harrier and the Ibis which are very popular in Australia.
Truma Caravan Air Conditioners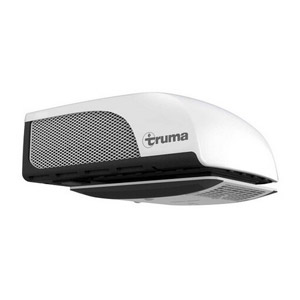 The main air conditioning system offered by Truma is the Adventa series. The German-designed Aventa provides the ideal combination of cooling and humidity, maximising comfort and reducing noise in a contemporary, energy-efficient, low-profile design. Two Aventa versions are available in either white or black. The Eco model has a cooling capacity of 13,500 BTU/h, while the Comfort models have a cooling capacity of 15,000 BTU/h.
All Truma Aventa models come complete with three manually selected cooling modes: low, medium, and high, as well as automatic cooling, dehumidification, night, and air circulation modes.
Truma offers both rooftop and storage box / under bench air conditioner units.
Houghton Air Conditioners
Houghton Reverse Cycle Air Conditioner is an OEM product that is currently standard in many medium- to large-sized Caravans and Motorhomes. It was created for the Australian RV market.
With a sleek design that is only 223 mm high, this powerful high-capacity air conditioner minimises vehicle height for low carports, garages, etc. and decreases drag. sports an attractive interior LED display and a high-efficiency fan.
The cooling capacity is 3200 watts, and the heating capacity is 2800 watts.
This is a fantastic, cost-effective replacement for your worn-out, outdated, or inoperable air conditioner or a brand-new A/C installation in your RV.
Telair
Telair has a range of flat, aerodynamic roof-mounted air conditioners that are an ideal choice because they use less inside space. The unit's rapid and simple installation on the roof is made possible by a cutting-edge design that preserves the vehicle's aerodynamics while utilising the normal 40 x 40 (or 36 x 36) cm roof-light opening.
Telair is a European company with offices in France and Germany in addition to its headquarters in Italy. It was founded in 1997 by the company Teleco, the Leader Manufacturer in Europe for Automatic satellite Antenna and has since expanded into caravan air conditioners and power generators.
Webasto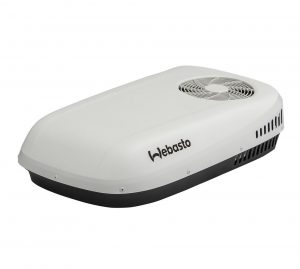 Webasto are based out of Kirrawee in NSW and have made quite a push into the Australian rooftop airconditioner market in the last few years. Their rooftop air conditioners are now available online via the main caravan parts websites as well as many leading caravan companies.
Their main product is the Webasto Cool Top Trail
Motorhomes and caravans that are parked can utilise the Cool Top Trail air conditioners. They have a high efficiency and great performance due to the size of their generously sized heat exchangers. Their dependability and substantial cooling capacity have previously been demonstrated in the intensely hot Australian summers, where temperatures can reach up to 50 °C. As a basic feature, the units have a robust heat pump capability that can operate in -5 °C frigid temperatures outside.