Hiking boots would have to be one of the most important factors to an enjoyable hike! No one likes getting blisters or sore feet on a hike and having it ruin the experience!
In this article we will take a look at a number of great womens hiking boots suitable for different types of hiking. These boots are made from quality materials to prevent blisters and provide comfort so you can walk longer and through tougher terrain. Even though some boots are quite expensive, there are still some entry level boots that are great quality and affordable.
So, with that in mind, here are 5 best womens hiking boots that are available online.
Best Women's Hiking Boots for Australia: Reviews 2023
Columbia Women's Newton Ridge Plus Hiking Boot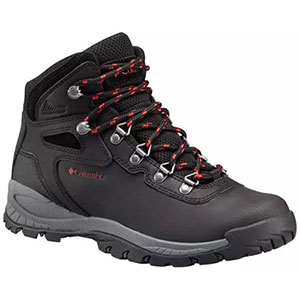 Columbia is one of the most well-known names in the world of outdoor sportswear. The Columbia Women's Newton Ridge Plus Hiking Boot is their premier product packed with the most advanced features. This model is a classic-style boot that is perfect for every woman out there who likes going out and exploring outdoor adventures.
This best hiking boot for women 2021 features a durable, lightweight midsole for long-lasting comfort. This feature helps give superior cushioning and high-energy return while on the go. Its advanced traction rubber sole gives users slip-free movement even on the roughest grounds and terrains.
With Columbia Women's Newton Ridge Plus Hiking Boot, you can make your treacherous outdoor expeditions comfortable and stress-free. This boot has a waterproof, full-grain leather-mesh bootie construction (for added durability) and a mesh tongue (for more breathability). Another great thing about this product is the advanced adjustable features. The hiking boot features a lace-up closure to give you a snug, secure fit throughout the day.
Since it is a women's waterproof hiking boot, it delivers style and durability with excellent contrasting color combinations and a soft mesh exterior. The Omni-grip, multi-terrain traction system counterpart specially made treads/compounds and environments. Its dual-zone winter tread pattern makes sure you have solid footing on rough surfaces like snow and ice. The boots are stain-resistant as well, so you can wear them anywhere you want with confidence.
Waterproof boots
Comfortable midsole
Mesh bootie construction
Highly breathable
Compatibly hotter than other boots
Merrell Women's Moab 2 Mid Waterproof Hiking Boot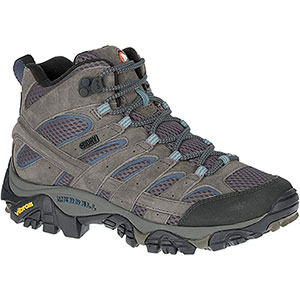 The first thing you will notice about these boots is the excellent level of comfort they provide right out of the box. They are very well padded and comfortable while still being lightweight on foot. The tongue's padding makes Merrell Women's Moab 2 Mid Waterproof Hiking Boot super comfortable on the ankle and on top of the foot.
It has a low ankle shaft height and is made with an air-cushioned heel with Select Fit Eco+ blended EVA footbed. This feature is to deliver extra arch and heel support to your feet. The heel height is more than enough to deliver ultimate support and convenient lateral movement. It comes in handy on uneven terrains where support underfoot is of importance.
With the Vibram TC5+ outsole, these boots give adequate traction to help you stay upright on rocky terrains. Thanks to the mesh upper and low ankle height, the product plays well in terms of water-resistance. Apart from water-resistance, durability is another important aspect of this boot's design that many customers love and appreciate. The toe box is wide, whereas the lacing system is made of mesh and fabric. This use of this material adds up to the durability of the boots as well as laces.
Overall, this boot is of solid value. For its price, the pair is going to last longer while delivering ultimate comfort and sustenance to your feet.
Comfortable and breathable
Well-padded ankle
Removable insole
Protective rubber toe cap
No support in the underfoot region
Columbia Women's Newton Ridge Plus Waterproof Amped Hiking Boot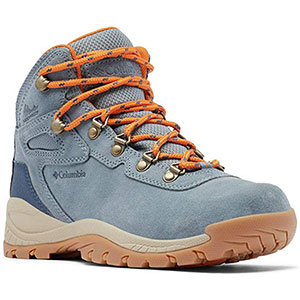 The Newton Ridge Plus Waterproof Amped Hiking Boots is an ideal choice to consider if you are into brown leather uppers, heavy-looking soles, and bright colored laces. These boots are very comfortable to wear; they break in very easily and are great for people who like short hiking trips.
Even though the boots look like they are stiff and hard to break-in, they are quite the opposite. Unlike other products on the market, they break in quickly and lack the standard stiffness that causes hiking problems. As far as the support is concerned, these boots are decent; they have a flexible and supportive sole to deliver a good amount of flex in the forefoot.
The best thing about this outdoor best hiking boot is that they have few seams. The upper is made of one-piece leather, making these shoes seam-sealed and waterproof. You will see no sign of wear and tear even after long-term use and abuse. Its leather uppers are highly durable, and none of the seams blows out during use. The soles are sure to remain intact even on the rocky terrains and technical hikes.
The boots are affordable as compared to its competitor models, so best for those who are just getting into hiking or planning to use the boots for occasional outings. The manufacturers have reinforced the heel and toe barriers with an extended outsole toe overwrap to guard your feet at all times.
Seam-sealed construction
Durable mid-cut waterproof hiker
All-terrain traction
Suede and supportive leather construction
Breathability could be better
KEEN Women's Targhee II Mid WP Hiking Boot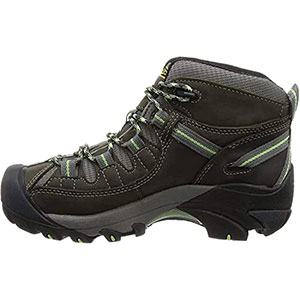 This waterproof hiking boot is sure to keep your feet dry and breathable for all-day comfort while hiking. They are supportive and comfortable and can also hold up extremely well with regular rough and tough use. At only 1.7 pounds, the KEEN Women's Targhee II Mid WP Hiking Boot is made for stability and comfort.
From the moment you put them on till the end of your hike, you will feel nothing but extreme comfort in your feet. It features a contoured heel lock with a Torsion stability ESS Flank to keep your feet from moving inside the shoes. In addition, the boots have a wide toe box to promote a fast break-in period and an impression of overall comfort.
The thickness of the sole matches well with the boots' height and provides utmost support to the ankle like the heel and toe box. Flexible nylon mesh uppers and waterproof nubuck leather provide ample durability and comfort on the go. Its KEEN dry waterproof breathable membranes allow moisture to perspire and keep your feet dry all day long.
The secure fit lace capture system has strong nylon webbing eyelets and heel wrap. This feature helps keep your feet locked up to the footbed for more support and flexibility. There are webbing pull loops at the tongue and heel (for fast entry/exit) with gusseted tongues to prevent moisture and debris and relieve lace pressure.
Compression-molded EVA midsole
Protection from uneven terrains
Excellent traction
Sturdy soles
Ankle shaft height is low
Timberland 6″ Premium Waterproof Boot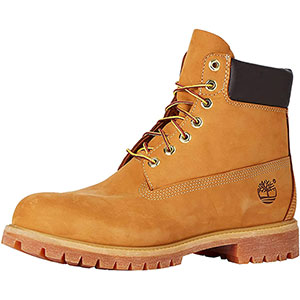 If you spend all day, every day on your feet, then Timberland 6″ Premium Waterproof Boot is for you. It features advanced anti-fatigue technology to give your comfort and long-lasting convenience throughout your hiking. You can keep the shoes on all day long and be sure that your feet will not ache or cause any problem.
On top of everything else, the best thing is that your feet will stay dry. With Timberland 6″ Premium Waterproof Boot, you get 400gm of toasty insulation, so you don't have to worry about cold climate and soaked socks at the end of the day. Concerning the safety point of view, the premier traction you get with these boots is unmatchable. They grip very well and have a 6.5 inches heel off the ground, so you can enjoy amazing ankle support and protection while walking.
These best hiking boots for ankle support are also very flexible. There is a thick padding on midsoles and heels, along with a padded collar for better mobility and ankle fit. The shoes look very appealing and can go with almost every outfit of every color. The laces are made of 100% nylon material, which not only looks great but also gives added durability to the boots.
They are built to last long. They are called premium work boots because you do not have to worry about replacing the shoes every few months with them.
Padded collar
Rust-resistant, strong laces
Moisture-wicking lining and footbed cover
Seam-sealed waterproof upper
Lacks heat-resistance feature
What to look for when buying womens hiking boots
Choosing the right hiking boots can be a very daunting task. With hundreds and thousands of quality products and brands in the market, it is very tough to choose a single product with all the desired features. Before you can invest your hard-earned money, there are certain factors, features, and parameters that you must acknowledge to make sure the boots are a perfect fit.
Types Of Hiking Boots
There are three main types of hiking boots, each constructed to serve different styles of hiking. These are as follows:
Hiking shoes
These are low-cut models with supple midsole. They are great for day hiking and for long-distance journeys.
Day hiking boots
Such mid to high-cut models are best for short backpacking trips light load. They do not need much break-in time and often flex easily. The only drawback is that they lack the support and longevity of any other stout backpacking boots in the market.
Backpacking boots
These boots are made to carry heavy loads during multiday trips. They are durable and supportive, with stiff midsoles for off/on-trail travel.
Hiking Boots Upper Material
A good-quality material can directly impact the boot's breathability, weight, longevity, and water-resistance.
Most of the models available in the market are made from full-grain leather. This material gives good durability with abrasion and water-resistance. Many backpacking boots made for long trips often have this material in their construction. Many manufacturers use split-grain leather with nylon or nylon mesh to make lightweight boots for excellent breathability. The benefit of these boots is lower cost, but the disadvantage is no water or abrasion resistance.
Hiking Boots Midsole Material
A midsole is to provides cushioning to your feet and prevents them from shock. The most common midsole materials available in the market are:
Ethylene-vinyl acetate or EVA: This material is affordable, lightweight, and comfortable. Different densities of EVA material are used to provide firmer support to the boots when required.
Polyurethane: It is more firm and durable. Due to this reason, many manufacturers use the material while making extended backpacking and mountain hiking boots.
Suitable Size
It is very easy to get confused with all the advanced features and ignore the overall size and fit of the hiking boots. Before trying on a new pair of boots, be sure to give them a size test to make sure they will not cause you any problem while hiking. It is always best to know your foot's length, width, and arch length measured accurately via any calibrated fit device. Foot volume is another important aspect of facilitating a good fit. Any professional at the store must assess it before you can choose a particular product for your use.
Firstly, you should have ample wiggle room within the toe box of the boots. The boots should be able to fit snugly around your foot's ball, but the heel must stay in place. Make sure you try the hiking boot while wearing the trail socks to get accurate measurements regarding fit and comfort level.
Type Of Hiking Terrain
Before going on a hiking adventure and buying the perfect boots for the venture, know if you will be traveling across rocks, roads, or mud. It is very important to know what kind of hiking terrain your shoes will be exposed to. It has a significant effect on the wear/tear and directs the type of features one must look for when buying a high-quality hiking boot.
Concrete surfaces can make your hiking boot wear out instantly. Therefore, if you have to walk long distances on the road, it is better to opt for a trail running shoe. Similarly, if your hiking trail is full of mud, stone, and grass, you need to buy a product with as few seams as possible. The seamless design is very important to have in any quality-hiking boot. This feature prevents water from seeping in and stops friction that might lead to a foot problem.
Weather Conditions
To get a suitable and accurate hiking boot, know if you will be hiking in a hot, cold, wet, dry, or humid weather condition. Weather situations and other environmental conditions play a significant role in determining how to select the best hiking boots.
If you have to hike in and out of the water, you must weigh up and opt for a fast-drying or water-resistant boot at a reasonable price range. If you want to buy a truly waterproof boot, you need to get a product with a breathable/water-resistant liner. Waterproof liners add warmth to the boots when you are wading through puddles or rivers.