If you are going to hit the road and do any type of touring in your caravan then you are going to need a well equipped kitchen. The best investment you can make is a quality caravan oven.
There will be many times you are in remote areas where dining out is not an option, so you will have to cook dinner yourself, plus it can get expensive eating out all the time.
Choosing the right caravan oven is pretty straight forward, and is pretty much dependable on your current caravan or camper setup.
The main things to consider when choosing an oven is:
Available space for an oven
Gas, Electric or both
Cooktops or Convection oven
Indoor or outdoor oven
The following is a list of 5 ovens that are worth checking out.
Best Caravan Ovens for Australia: Reviews 2023
Dometic Portable Gas Stove With Oven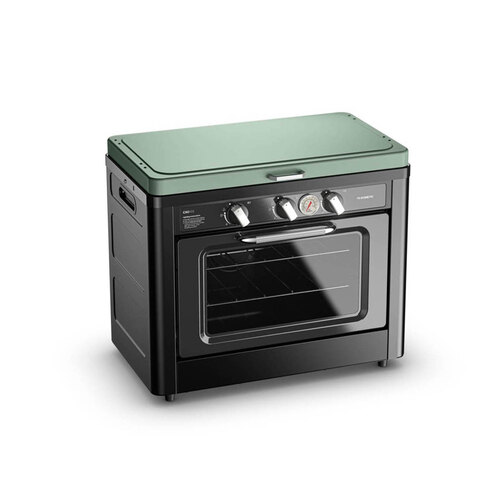 Looking for a way to take all your comfort cooking products on an outdoor trip? Look no further than Dometic Portable Gas Stove With Oven to fulfil all your cooking needs. Thanks to a wide range of features, the oven is perfect for making your camping meals more enjoyable and delicious. It comes with two potent brass burners with 1.5KW heat output each. This feature makes this product powerful and big enough to cook massive meals for family gatherings and friends.
After connecting to gas, just turn the knob and start the Piezo ignition to start cooking your favorite outdoor food items. Another notable feature of this oven is its integrated windshield that helps protect burners from dust, wind and other environmental factors. The oven is also very easy to clean and maintain. Oven racks and cooking plates are covered with non-stick enamel coating and are completelyremovable for hassle-free, easy cleaning.
Convenience features for this oven include integrated recessed carry handles. Thanks to this feature, you can conveniently move the oven from one place to another or keep it safe when not in use.
Ready for use
High heat output
Three-sidedwindshield
Robust construction
It cannot be used indoors under any circumstance
THETFORD Spinflo Caprice MK3 Oven Cooktop(4GAS)+Grill. SOH72811Z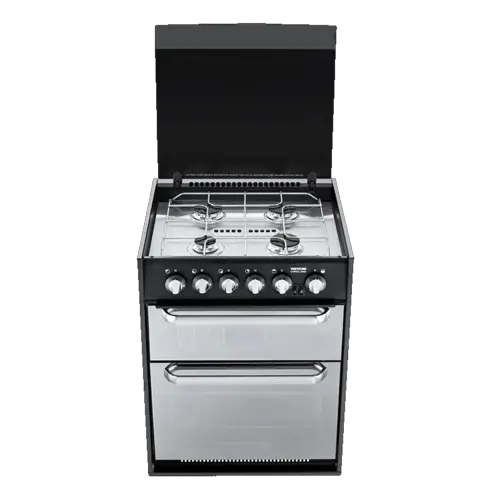 Next time someone tells you that you cannot enjoy cooking your favorite foods in a caravan or camper, tell them about the all-new THETFORD SPINFLO CAPRICE MK3 OVEN COOKTOP. Like all the other buyers, we also love the sleek and stylish back glass lid, silver handles and brush metals on this product. With its large size, it is one of the most heavy-duty caravan oven options out there. You can relish 36L oven capacity, 23L grill and three quality gas hotplates all in a single, high-quality product.
While it is larger than the other counterparts, it features a decent-sized oven, four hotplates and a grill. The fan-forced option is another thing to love about this oven! It is not just great for your cooking performance but also for even heat and temperature distribution while cooking.
The appearance of this caravan oven is the bonus point for every buyer. It not only looks good but is also very useful and versatile to suit your campingrequirements. The THETFORD SPINFLO CAPRICE MK3 OVEN COOKTOP is a suitable choice for a family or couple with plenty of room to cook outdoor dishes.
Automatic shut off on glass lid
Detachable handle
Multifunctional pan
Stylish and sleek
Dual fuel fan-forced feature
Dometic MC102 Grill and 3+1 gas/electric hob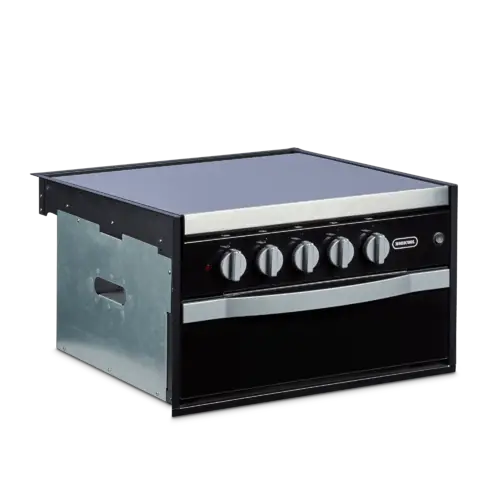 You may be far from your own kitchen; does it mean you stop cooking and enjoying delicious foods? Of course not! Just use the Dometic MC102 Grill and 3+1 gas/electric hob to make your outdoor journeys and stays even more pleasurable and fun in a boat, RV or camping kitchen.
This product is specially designed for caravans and people who are always on the go. It does not matter if you are a good cook or not; know that this product is up to scratch, so you never have to struggle again to achieve consistently amazing results. This gas/electric hob is very easy to use, provides instant heat and is promptly responsive to small/large adjustments in temperature. This is the main reason why people want to opt for this caravan oven as it gives them the freedom to make food as per their demands.
The biggest plus is that the oven delivers an extreme level of adjustability and control to the user. You can conveniently take your cooking skills to the next level without investing a lot of money on a single product.
Compact dimensions
Suitable for all your cooking styles
Easy to control
Quick heat up
Devanti 45 Litre Black Convection Oven with 2 Hotplates
Hunting for a multifunctional and versatilecaravan oven? Look no further than the Devanti 45 Litre Black Convection Oven with 2 Hotplates for your next voyage. This product is precisely made for people with a fondness for baking or making bakery items during outdoor adventures. It comes with bake, roast and grill options, so you have many ideas about making breakfast, lunch or dinner menus. With this product, sweet-lovers can even have their after-dinner dessert sorted all while cooking the main dish.
The Devanti 45 Litre Black Convection Oven has a quality glass door and an integrated light so you can keep checking on the progress of your cooking and then adjust the temperature settings as needed. Don't worry; you will have complete control over the food! Your dishes will never turn out overcooked or undone on the table anymore, thanks to its top and base heating options. This feature enables you to control the heating more efficiently for a perfectly done dish or dessert.
Enjoy the unlimited options with the 45L capacity, double hot plate and rotisserie function and make your trips even moreextraordinary and agreeable than ever.
Stainless steel housing and door frames
Heat-resistant glass door
Indicatorlights
60-minute timer with bell ring
Temperature issues with some buyers
Travel Buddy 12 Volt Oven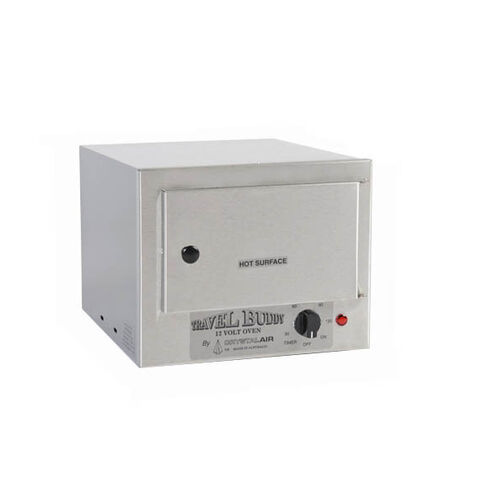 This product is your ultimate solution to all cooking needs and enjoying hot meals on the road. Now you can make sausage rolls, pies, or even pizzas no matter whether you are parked or driving with your friends and family. The 12V oven is the smallest version of the most popular, in-demand range of camping ovens in the market.
All hail to its design, features and benefits, heaving hot meals without needing a gas oven or dealing with the hassle of maintaining/cleaning the wood fire stoves is now possible for every caravan owner. Say hello to this all-new electric oven that is easy to use and mount on the car or on a motor home.
Don't worry; using this caravan oven is as easy as flicking a switch in the house. Just set your desired timer, put your food in the oven and enjoy the drive while eating your hot, delicious meals. For many people, the Travel Buddy 12 Volt Oven has opened multiple options for cooking and enjoying food on the go. Many caravan owners are currently using this product to give new meaning to fast food and fast food supply.
Tow hour timer
Insulated stainless steel material
Compact and lightweight
Quick warm-up time
Takes time to get the timings right
Caravan Oven Buying Guide
Looking for the perfect, most affordable and high-quality caravan oven? With so many products and brands in the market, choosing the right product can be a bit intimidating. Fear not! We are here to discuss some of the most important factors, features and aspects that every potential buyer must consider before making a final choice.
Types Of Caravan Ovens
The first step in choosing the best oven for your next outdoor trip is to know which type you want to invest your money in. There are many types to choose from based on your travel and camping requirements.
Oven and stove combo
This range combines the stove top and oven in a single unit. These traditional ovens are quite famous with the Caravan owners due to their versatility and multiple cooking options. Moreover, oven and stove combo equipment is ideal for people looking for a way to avoid the hassles of electronic hookups in their RVs or caravans. Most of them feature 2-3 burners in different sizes to fulfill all your road cooking requirements.
Cooktop stove
These products are mostly used for surface cooking, such as boiling, sautéing, and frying.
Convection oven
These ovens cook more quickly and evenly compared to conventional ovens. It is best for those who want their food to come out piping hot, brown and crisp.
Outdoor camp oven
These units come with dual burners and a porcelain-coated cooking surface for effortless cleaning. Most of the models available out there has a foldable lid to be used as a windscreen for flame protection.
Power Supply
A lot of buyers tend to overlook this important feature while buying a caravan oven for themselves. The power supply is extremely crucial for convenient cooking and transportation on the go, where the most common options available include electricity or gas.
If you have access to an electric outlet, a high-quality electric model will do the job. These ovens are energy-efficient but can be a bit hefty on your pocket. However, when your priority is accurate temperature controls and even cooking, gas models are a better choice to consider. You can do a lot more things with a gas oven compared to the electric counterparts and enjoy your outdoor meals with more versatility than ever!
Easy And Convenient Installation
Since some models are a bit more complicated than others, one must consider the installation process very seriously. After choosing a particular product for your caravan, look into its installation directions to opt for an exact cut-out measurement and perfect fit. A lot of buyers prefers freestanding models as they give easy access to the cooking surface and come with a fixed backsplash panel to make for a safe, secure space.
Size And Number Of Burners
While choosing a quality oven for your caravan, know how many burners you might need for cooking. Usually, caravan cooking ranges feature 2-3 burners of different sizes, so you can cook your favorite meals without worrying about the size of your cooking pots. The standard set includes one high-output large burner and two low output smaller ones.
If you have a big family or wish to go for massive outdoor friends gathering, opt for a product with a bigger size and multiple burners. The best product in the market should be able to easily accommodate different sizes of pots and pans. Make sure you keep this feature in your mind during the purchase!
Portability
Since you will be taking the oven or cooking range outdoors, you want it to be as portable as possible! Always go for a lightweight and compact design that is able to take less space in your caravan.
Material And Design
Today, many caravan ovens (gas models) are made from high-quality, heat-resistant steel material. Stainless steel is quite durable and easy to clean. However, for stubborn cooking splashes and oil, you might need to buy a special cleaning agent; also, the color options are limited to suit the buyer's caravan requirements.
Enamel is another most common material used in making caravan ovens. It is strong, stylish and versatile but can be a pain to clean or maintain. If you want to buy a product with easy-to-clean enamel, make sure it is porcelain coated. Some manufacturers also incorporate glass-ceramic in their product's design as they are very easy to cook on and clean. The only drawback here is that they tend to be more expensive than other available options.
Frequently Asked Questions
Q. Are caravan ovens any good?
Caravan ovens serve as a great addition for families and friends who don't want to compromise on the taste and flavor of their food during camping or road trips. Some of the best available options in the market might cost you a lot of money, but you must consider your options fully to make the right choice.
Q. How do you clean a caravan oven?
The first thing to do while cleaning a caravan oven is to remove its grates. The grates are strong but need to be soaked in hot water and dish soap to clean up all the spills and residues. You can also soak the burner caps and knobs in warm soapy water to clean up the equipment more proficiently. As far as the cooktop is concerned, you can always wipe it with a damp cloth, sponge or soft toothbrush for a thorough scrubbing.
Q. How can I improve my caravan's oven lifespan?
To increase the oven's longevity:
Wipe away the spills immediately, especially if they are sugary or oily
Always replace or clean the oven vent filters to reduce any persistent odors around the cooking area
Keep an eye on the door casket to ensure no heat escapes the oven while cooking
 
Final Thoughts
There you go. These are some of the best caravan ovens for the year. Now that you are well aware of the best-selling products in the market, we bet things will get moremanageable for you on the road. All of our recommendations are great in terms of design, functionality, performance and portability. No matter which product you choose, it will be a perfect companion for you during outdoor trips.