Have a sturdy place to eat your snags with a quality camping table!
No need to rough it completely when camping when you can easily take with your a few convenient items such as a camping table. Gone are the days of having to lug around a large, heavy table, there are now a range of tables on the market that are both lightweight and pack away for easy transport.
I'm sure you would agree that having a sturdy place to sit and either prep food, or eat it, is a major checklist item for any regular camper. It not only makes for a more enjoyable dinner time, but also provides a convenient platform for kids to do drawings, or play a game of cards.
There are several different styles of camping tables, so let's get straight into our camping table reviews.
In our opinion, the best camping tables for Australia are:
Best Camping Table for Australia: Reviews 2023
Triwonder Ultralight Aluminum Folding Camping Table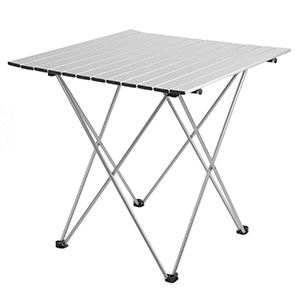 Outdoor adventures are incomplete without the suitable camping setup. That is why Triwonder has introduced a folding camping table keeping your comfort and convenience in mind. The table is made up of high-quality aluminium that is sturdy and durable enough to withstand 20Kg of weight. The material is anti-oxidation and corrosion resistant along with an exceptionally light weight that is suitable for camping or other outdoor adventures.
Moreover, the table is super-portable to help carrying it with ease. It can be rolled up conveniently due to which it is easy to install as well. The table comes in separated parts i.e. the board and bracket so that it can be assembled quickly. In addition the table has a safe and secure design featuring non-slip groove to keep it balanced on any uneven surface.
This table is versatile enough to be used for various outdoor trips like camping, hiking, fishing, picnics or parties. It comes in three standard sizes with a robust carrying bag so that you can take it anywhere conveniently. In my opinion, The table looks great with the unique height adjustment feature and remarkable stability proving to be a lifelong companion for all your outdoor journeys. In addition, when I look at the price, it seems quite reasonable with so much value and convenience.
Anti-oxidative and corrosion resistant built.
Made up of durable material.
Easy to assemble and disassemble.
Height adjustable.
Able to withstand heavy weight with stability.
Affordable price.
Best for outdoor use.
Extremely light and portable
Kamp-Rite 2 Tier Kwik Prep Table, Silver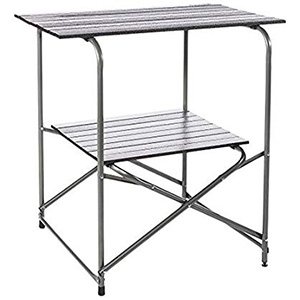 Looking for a two-tier table for a great tea time outdoors? Then Kamp-Rite Kwik Prep Table is a must-buy. The table has a reasonable height for the meal preparation during your outdoor journey. The table contains an extra shelf to put extra things in. Kamp-Rite Kwik Prep Table is sturdy enough to endure the weight up to 60 lbs.
It features a super durable construction with a lot of value added features including an extra storage shelf and a compact design. It is not only suitable to be carried outdoor but you can also use this table for any indoor purpose like in your small kitchen. The table is very easy to assemble and disassemble. Moreover, The high-grade material allows it to withstand tough weather. That is why the table is suitable for Hiking, Camping, Fishing and barbeque etc.
This table is perfect on the go. It comes with a nice and sturdy carrying case to carry it along anywhere. It is portable and foldable with superb stability. The table is perfect for outdoor cooking where you can setup you small kitchen temporarily. As far as the price is concerned, It has a very reasonable price for a smart design and durability it offers.
It has a durable construction.
It is a two-tier table.
Perfect for both indoor and outdoor use.
Made to withstand rough weather.
Affordable price
It comes with a carrying case.
The slide does not get locked on the top.
ONIVA – a Picnic Time Brand Portable Folding Picnic Table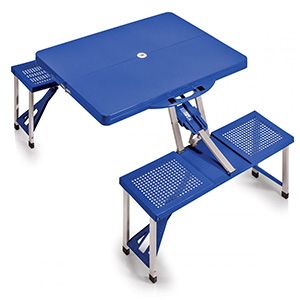 If you are looking for a perfect table for your picnic time then ONIVA adds value to your experience. It is a sturdy table suitable for outdoor use. Place the table in your yard or take it anywhere, the table fits best according to your need. It is a compact table with a foldable design. It comes with 4 bench seats. These seats are also portable so you can take this whole setup conveniently.
The table is constructed of a sturdy aluminium frame that is collapsible in to a suitcase size. The benches are strong enough to withstand the weight capacity of 250 pounds which is a high number. The table top is laminated and contains an integrated hole located at the centre to fit the umbrella in it. This table is perfect for the picnic time you love to spend sitting with your family and friends
The table is easy to transport along with the cute portable seats. However, the table is quite low and seems appropriate for kids only. Setting up the table is easy and disassembling is also very convenient. However, the table is a bit flimsy. The price is very high as compared to the tables with similar design and features.
It is a complete setup for outdoor use.
Comes with 4 benches for sitting.
Portable and folding table.
Sturdy table
Durable benches.
Reasonable weight capacity.
Easy to assemble.
The table is a t flimsy.
High price.
Coleman Pack-Away 4-in-1 Adjustable Height Folding Camping Table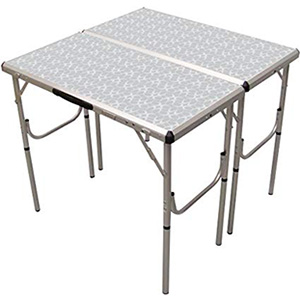 The Coleman Pack-Away 4-in-1 table is a versatile table that has an adjustable height. The table can be used as a foldable camping table that can also be converted to a dinner table, a buffet table, a serving station for the guest and also the coffee tables. I just loved the fact that the table is multi-purpose with a lot of utility is a very affordable price.
This sturdy table is made up of a lightweight aluminium frame offering incredible stability. The table looks pretty good with the mosaic designed laminated top. This Coleman 4 in 1 table is famous for the reliability and exemplary workmanship. The company makes sure that the table is versatile, durable, lightweight and adjustable. The height can be adjusted up to three levels. The table's adjustability is worth praising. You can set it as low as your child can reach up to it while high enough to access while standing. Moreover, the table is compact and lightweight to provide great portability.
The table combines number of features that add real value to its use. The versatility is incredible along with the reasonable price. The table is suitable for indoor as well as the outdoor use. So you can buy the table whether you are going to arrange an in-house event or going for camping or hiking etc.
Adjustable height
Multi-purpose
Affordable price
Sturdy and durable
Great workmanship and reliability
Comes with a manufacturer's warranty
Compact and lightweight
Some parts are cheap
It has thin fragile corners
FrenzyBird 4-Person Folding Picnic Table with 4 Chairs, Height Adjustable, Portable and Lightweight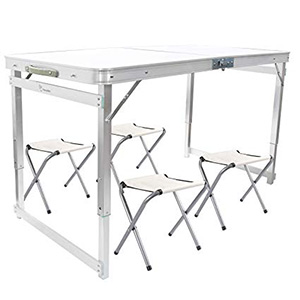 FrenzyBird 4-Person Folding Picnic Table is so far, the best outdoor table with excellent quality and durable construction. The table is lightweight and as portable as a camping gear must it. The foldable table is constructed of an aluminium allow frame that is not super-sturdy but reliable if used with care.
The table comes with 4 aluminum stools that are equally compact and easy to move. You can assemble the table in few seconds and adjust the height according to your need. This feature makes it perfect to be used for the outdoor activities like camping, hiking, swimming, fishing and picnics etc.
The table provides great stability backed by two cross beams ensuring balance on any surface. Moreover, it has a nice appearance featuring fiber table top that adds great value to the table. The table is overall the best choice as far as the far tables are concerned. It provides a complete sitting set up for your outdoor journeys. It is easy to clean and assemble. Moreover, it is water proof and corrosion resistant so it can withstand harsh weather. The weight capacity is also great so you can place heavy item over it without getting it flimsy.
It is sturdy and durable.
It comes with 4 sturdy stools.
Water proof and corrosion resistant.
Good appearance.
Highly Stable and versatile.
Portable and lightweight.
Best for outdoor use.
Easy to assemble.
Affordable price.
Some parts are cheap and breakable.
So, these were few of the highly-rated camping tables that are none other than the exception. We assure that these tables are personally tested and reviewed to guide you to make a reasonable choice. Every table provides great value for money as far as the essentials like Durability, portability and performance are concerned and we hope that none of them will fall short in providing the best camping experience ever.
Buying Guide for the Best Outdoor Camping table
If you are an adventure lover and keeps traveling far and wide for camping, hiking or so on then buying a reasonable outdoor table is essential to the camping setup. Such a table must have certain features that add value to your camping experience. Let us dig down in deep to help you make the right decision.
Type
Before you start browsing or shopping for the best camping table, make sure that you have identified the type to be bought. The market is flooded with so many styles that can confuse you for sure. That is why I will recommend you search for a certain type. The common types of tables include the cooking tables, side tables, dining table or the multi-purpose tables. However, the versatile or multipurpose tables work best for everyone.  These tables can be transformed from a dining table to the side tables and so on. They come with detachable parts that help us to get several benefits.
Our reviewed products list down almost all these types ensuring that one of them will be a good fit for your needs.
Size
The dimensions or size of the outdoor table really matters because the outdoor table should be compact enough to fit your carrying case. These tables are usually foldable and collapse well in a suitcase or carrying case so that they can be carried easily to any place. However, the common rule says that the tables having a smaller dimension and slim structure suit best for the camping needs.  
Portability
A number of features add value to this essential for buying a camping table. Portability is what makes a table easy to carry. As an outdoor table is bought for outdoor purpose, it is required to be lightweight, compact and foldable enough to be portable. Such a table that lacks any of these factors won't fit best for your outdoor adventure.
Material
The camping tables are made up of different materials like wood, metal or aluminum. Aluminum is a lightweight material suitable for camping and hiking while steel guarantees durability but it weighs more. So, it is not a very portable item to go for camping. However, the wooden tables are quite famous for the excellent looks and workmanship. Your decision should depend based on the value that the table offers. The camping table should be a reasonable combination of durability, portability, and performance and if you don't have enough time to research the tables then you can review this article to shortlist the most suitable product. We ensure that all of the reviewed products provide great value for money.
Sturdiness and Durability
The outdoor tables are exclusively designed to withstand harsh weather. They are made to provide additional durability. They have waterproof, chemical proof and corrosion-resistant built that can prevent them from wear and tear. Some are abrasive-resistant as well so better to choose the table that ensures lifelong use.
Price
The price range varies according to the brand and features. Some camping tables are cheap and affordable while some come at a premium price. Some brands offer value-added features like height adjustability and versatility etc. that raise the product's price. However, the reasonable table comes in a price range of $60 to $150.
Summing Up
So, this was our comprehensive review on some of the most highly rated camping tables followed by a buying guide to help you in making a reasonable decision. We hope that one of the tables will definitely twist your arm to buy one of your choices.