Best Camping Stove Comparison Table
Best Camping Stove for Australia Reviews
Coleman Eventemp 3 Burner Propane Stove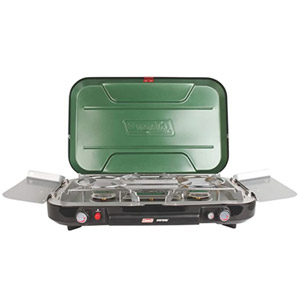 This stove comes with non-skid feet that provide more than necessary stability and support to the gear while cooking. Having this feature also works great for different types of grounds and surfaces, which is a much-wanted capability for an outdoor stove.
With an instant start, matchless ignition feature, you will never get frustrated trying to start the stove with the wind coming in from all directions. The match-less ignition helps pass an electric spark to the burner, which only takes a few seconds to start.
The side panels provide an excellent windshield and keep the burner working efficiently and perfectly. The best part about this feature is that you can adjust the panels according to your cooking gear and even fold them to use as side tables once you finish cooking.
There are three burners that deliver a massive 28000BTUs of cooking power to keep you overpowered despite the type of meal you are cooking. The cooking space is pretty adequate. It has three burners and enough space to accommodate three 8-inch sized pans.
Adjustable burners
Stable feet
Push-ignition button
Setup and cleanup is easy
A bit heavy at 19.5 pounds
Coleman Triton Instastart Propane 2-Burner Stove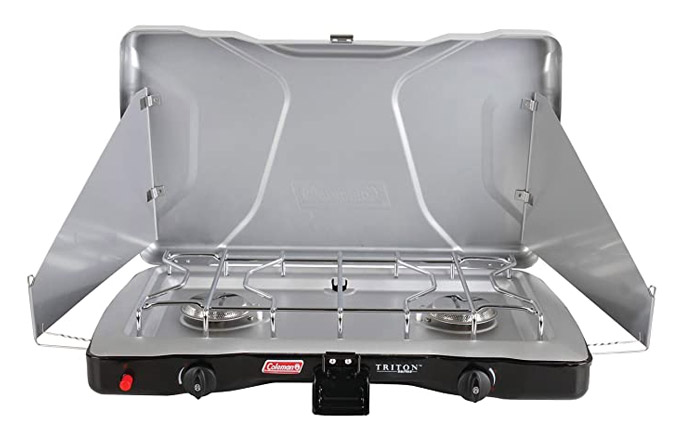 This stove is no doubt one of the best backpacking stove that you can rely on when out camping or hiking.
With a total of 2000BTUs, this product provides an extensive cooking area and easy to adjust control options. It is a well-rounded cooking gear that comes with advanced features and qualities. The setup process is simple and fast. A small recess is present on the side of the stove where the propane adapter is positioned. This design prevents the adapter from falling out or causing any incident while cooking.
To clean up the stove, you can simply lift the cooking grate and drip tray and clean the surface of the stove as usual. With the highly adjustable windscreens, the stove doesn't struggle with wind resistance at all. In fact, the stove's performance is more than ideal in windy weather, which is precisely what most backpackers are looking for.
Coleman Triton Instastart Propane 2-Burner Stove is also very compact and a great option if you want to cook for a large number of people
Travel-friendly
Easy to clean
Adjustable windscreens
Affordable and low-priced
Average cooking space as compared to other models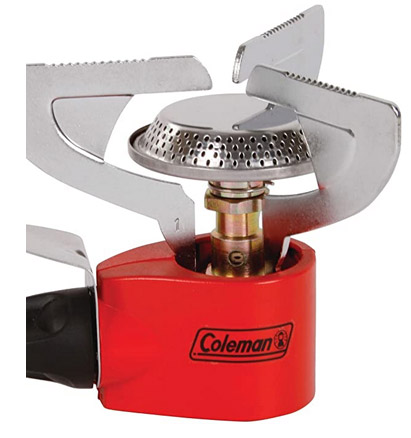 If you are looking for the most compact and portable stove to take on your next outdoor trip, look no further than Coleman Peak1 Stove.
This stove can easily accommodate a 6-inch pan or pot on top of the given serrated supports. You can even boil around 1 liter of water in less than 3 minutes and use it whenever you want. The fully-adjustable heat of the stove can easily go from simmer to full-fledged boiling in minutes, thanks to its 10,000BTUs cooking power.
With this stove, you will experience fewer flame flare-ups due to its cohesive Generated Fuel System. The Perfect Flow Pressure Control Technology generates a steady fuel stream and gives consistent burner performance in almost every type of weather.
When you finish the trip, you can easily separate the burner from the fuel cartridge for a stress-free compact packaging.  Without attaching the fuel, the overall gear weighs around 6.7 ounces, so it is a perfect option for people who don't want to weigh down and travel light when going on a trip.
Reasonably light in weight
Three-arm cooking surface
Maximum flame control
Easy to handle while hot
Doesn't come with a windscreen
Devanti Portable Camping Cooking Oven LPG Gas 3 Burner Stove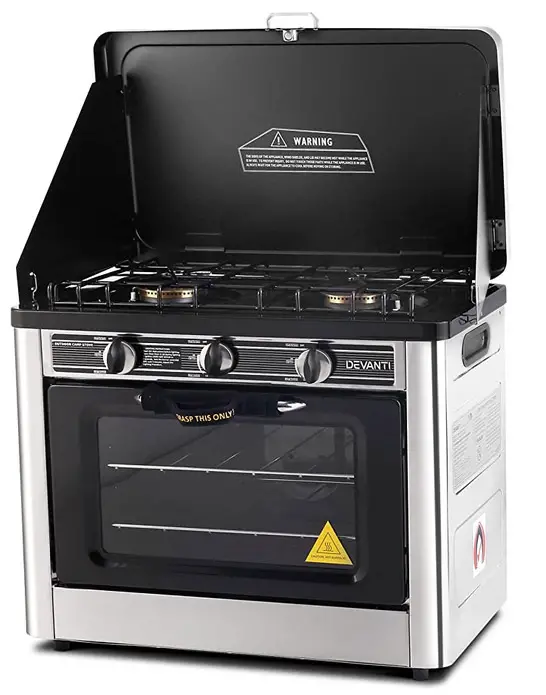 This camping stove features almost all the safety measurements that you can expect from a high-quality camping product. With its twin 5300 BTUs powerful stove burner and a 3500 BTUs oven box, the Devanti Portable Stove can deliver excellent performance every time you take it camping. It is efficient to make any dish so you can enjoy delicious food even on the trails.
There are two racks over the burner that you can conveniently use to bake, cook, and roast at the same time while giving versatility to your dining table.
The over frame is made from strong and durable stainless steel, which provides much-needed stability to the stove and is easy to clean as well. A tempered glass door is present at the front of the oven that you can use to monitor your food without opening the hot door. Extra shielding helps block wind and preserve heat for efficient cooking.
There are integrated heat-control dials so the user can adjust the heat level according to his/her personal choice. Also, you can check the temperature of the stove through the given thermometer and cook your meals to perfection every single time.
Excellent performance
Strong frame
Operation convenient
Simple assembling
Hard to have a hold at required settings
Ohuhu Camping Stove Stainless Steel Backpacking Stove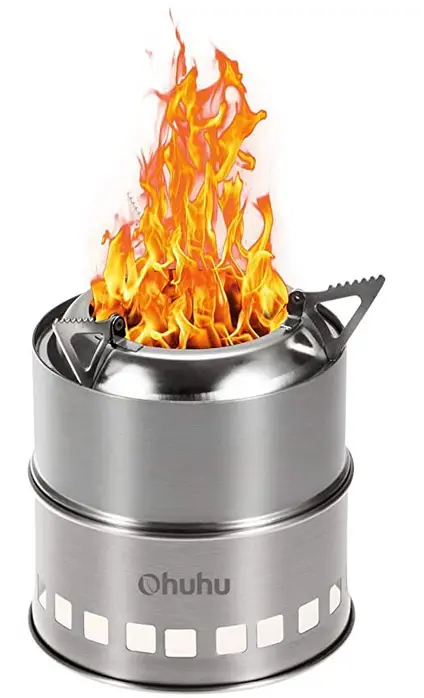 At Ohuhu, it is all about tossing camping gear in your backpack and no more problem of hunger in the wild. The Ohuhu Camping Stove consists of good-quality stainless steel, which makes this portable camping stove burn very bright even if there are heavy wind and heat in the way.
The stove comes with a three-arm base support system. It means that even the most uneven surfaces can be your personal, stable cooking countertop whenever you want. The manufacturers at Ohuhu believe that Mother Nature provides the best fuel catalog. This stove works on the same phenomena, so you are free to use leaves, twigs, pinecones, and even wood for kindling the burners.
The overall equipment is easy to collapse, fold, and store. It is lightweight and comes with its own mesh carry bag so anyone can sling it along serve a hot meal while enjoying their camping trip.
Since there are no fuel canisters involved, this stove doesn't leave any chemical emission behind. It is environment friendly and knows how to treat the earth with extra care and attention.
Fueled by nature
Easy to set up
3-arm pot support system
Even distribution of heat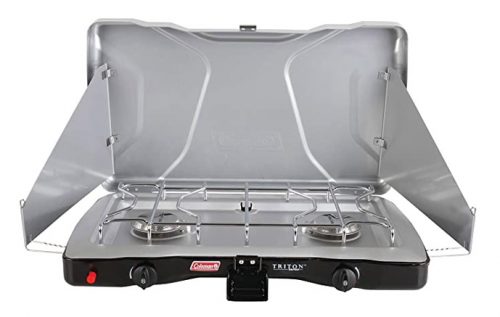 Choosing the Best Camping Stove
Mealtime is an important and the most essential part of any outdoor camping trip. In this guide, we are going to highlight some of the most important factors and parameters that every potential buyer must consider before making a final purchase.
Types of Camping Stoves
There are 3 main types of camping stoves:
Canister stoves
They require low maintenance and are very easy to use. They are quick to light up and come with integrated pressure regulators to deliver consistent heat output throughout your cooking,
Liquid fuel stoves
These stoves are quite versatile. You can connect the equipment to the refillable fuel bottles. They are a great choice for people who like to travel internationally but face limited fuel choices outside the country.
Alternative fuel stoves
They are great for long-distance camping. There are different kinds available in the market where some are lightweight, while others are a bit heavy. 
Reflective Windshield
Another important feature to look for when buying a camping stove is windshields. A good reflective windshield can protect the camping stove from quenching heavy winds. They are usually made with reflective materials like aluminum, so the stove can reflect back any escaping heat to the pot to enhance the efficiency of cooking.
Steel and Flint
Your lighter may break, your matchsticks might get wet on the camping trip, but if you have a flint and steel, you will always have a way to light up your stove. Therefore, it is important to look for a model that comes with this feature as it can last up to thousands of strikes and gives you a feel of being a proper camper in the wild. 
Fuel Bottle
For multi-fuel stoves, you need equipment that comes with fuel bottles. You may not be able to go camping with different types of fuel, but you can always carry in the bottles and get them filled while on your way. These bottles can also handle the pressurization that you need to work your multi-fuel stoves efficiently.
Number of People
The number of people you are going to cook while camping matters a lot when buying a stove. If you have a group of four or less people and are just going camping for a day to two, it is better to opt for a compact two-burner stove. These models do not weigh a ton, can fit any vehicle easily, and delivers an impressive amount of BTU cooking power.
To reduce the dimension and weight of the burner, even more, go for foldable two-burners. You can also buy a bulk tank hose adapter to use a large propane tank instead of multiple green canisters.
BTUs and Cooking Power
BTUs stands for the amount of energy require to cool or heat 1 pound of water through 1 degree Fahrenheit. It is, in fact, a measure of your stove's power. The more BTUs a camping stove has, the more heat it will produce while cooking. However, apart from BTUs, the overall design and body of the stove, the size, and position of the burners and the ability of the stove to resist the wind are also very important in determining the actual strength of your equipment's output.
Frequently Asked Questions
What Are Some Camping Stove Safety Tips?
While camping and preparing food, never cook inside your tent or enclosed spaces. Doing so can create a high risk of accidental fire and is also a health hazard that could lead to carbon monoxide poisoning.  Before igniting the stove, make sure that all parts of the unit are connected properly and in a well-working condition. Also, ensure that the setup is correct, especially if you are using a multiple-piece collapsible camping stove.
How Can I Clean My Camping Stove?
Cleaning a camping stove is just as simple as cleaning up the stove at your house. Keeping your outdoor stove clean and properly maintained can give you better fuel energy and flame control while making food.
If you have a propane stove, disconnect the tank first before cleaning it. Use a damp sponge, dish soap, and warm water to scrub away the debris and food remnants. You can also use a pressure hose to blast your burner clean. When done, let the stove air-dry.
How Long Will My Camping Stove Last?
The longevity of your camping stove depends upon the maintenance, frequency of use, and the way you treat the product. However, ideally, you can easily get many years of use out of a good-quality camping stove. A lot of people use their camping stoves a few times per year, which in turn, gives them a highly functional stove ten years (and more) down the road.
Final Thoughts
There you go. These are the best camping stoves on the market at the moment. Your camping experience is sure to be heightened no matter which product you choose from the list.  Your food will be great; you will get to enjoy a hot meal and have extreme fun with your friends and family.